10ticks is the brand name of Fisher Educational Ltd. The company started in 2000, winning the Government DTI e-Commerce Award for Innovation in Education and Learning. 10ticks is now the market leading provider of maths materials in secondary schools, with over 50% of pupils using our material. 10ticks specialises in the provision of maths resources to cover ages 5-16, to entirely cover the Maths National Curriculum in the UK. 10ticks have also adapted existing material for the Malaysian, Australian, South African and Indian Curriculums, supplementing the existing worksheets with exciting brand new material.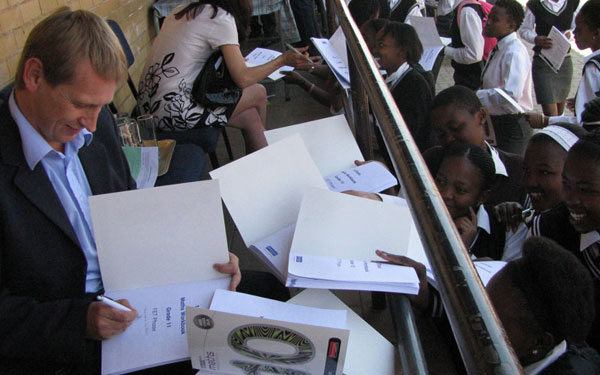 Mr Fisher also combines his experience of the UK curriculum with his unrivalled knowledge of foreign education systems, to bring the best possible methods from across the globe together with the intent to create the best possible learning environment to children. As a respected figure in the maths education community, invited only recently to address the Malaysian Education Department, Mr. Fisher has dedicated his life to the thing he is most passionate about: the effective teaching of mathematics.
But don't just take our word for it....
"We at Monk's Walk School feel that the 10ticks packs are by far the best mathematical resource we have ever encountered. They have freed us up to spend more time on other aspects of teaching." - E.K, Monk's Walk School, Welwyn Garden City.
"An excellent resource full of stimulating worksheets and some superb games - it wasn't just the pupils who enjoyed them! If you're looking for a superb resource - look no further than 10ticks, Algebra has never been so much fun! Not only do the kids love your worksheets but so did OFSTED! Thank you!" -S.H, Myton School, Warwick.
"Just wanted to say that we are throughly enjoying the packs that we bought from you. They are a briliant resource - fun, imaginative and yet with much useful practice material." -A.M, Oxford High School, Oxford
"The level 6 packs are fantastic. I'm working with other schools in our area with a focus on the more able and talented. I've recommended you to these local primary schools and also our local secondary schools. Look forward to receiving the level 3 packs." -C.H, Harewood Junior School, Stockton on Tees.
"An extraordinary resource. Quite the richest and most comprehensive set of worksheets I have ever seen. Varied and interesting in presentation. All sorts of everyday uses." -P.D, Dormston School, Dudley.
"The level 5 materials have been very straightforward for the children to use. They have enjoyed the feeling of success and hardly notice the gradual increase in difficulty. I hope your company continues to be successful." -P.W, The Bradbourne School, Sevenoaks.
Maths Home Learning System
Buy the 10ticks Home Learning System Today and start seeing the benefits in your child!
As an experienced maths tutor, and a parent himself, Ian Fisher is also able to bring effective methods to parents wishing to home educate their children. 10ticks firmly believes that education and the development of children are of the upmost importance to the future of our society and our economy, a philosophy we are sure that you, as a parent, will share.
Numeracy is a key challenge in this country's economy and we must act now to ensure a brighter future for our youth. This does not have to translate into costly private tuition, and can be achieved with the active involvement of parents and a little help from the professional support team at 10ticks. Let's join together and bring effective learning to the fore.
or try the